Kuflink Ltd (Online P2P Platform) Audited Accounts for the period 2019/2020 filed by MHA Macintyre Hudson in August 2021.
Kuflink Group Plc's trading regulated subsidiaries are:

1) Kuflink Ltd (Online Peer to Peer platform - since 2017); and
2) Kuflink Bridging Ltd (Loan originator - since 2011).


Kuflink Ltd (Online Peer to Peer platform) Audited Accounts filed at companies house:


Kuflink Ltd ,
which has been
profitable since 2020
(based on Audited Accounts), has continued to make a
PROFIT
for year ending
30th June 2021
(based on Management Accounts).
Please see the table below for Forecast, Draft, and Audited Accounts summary: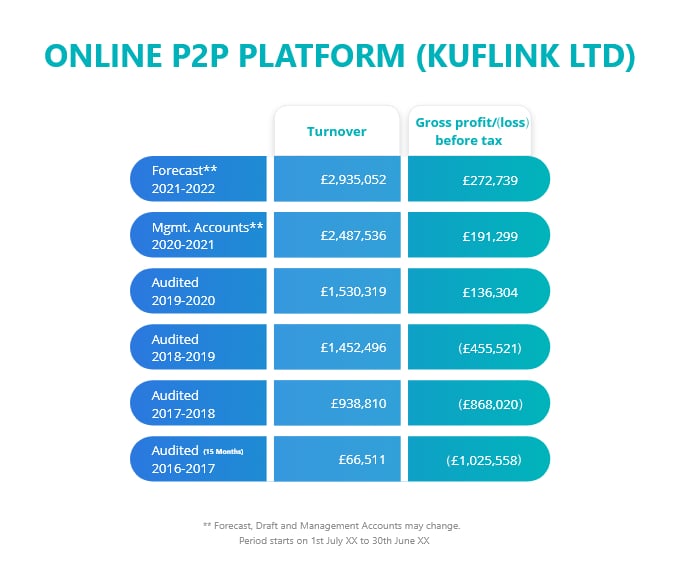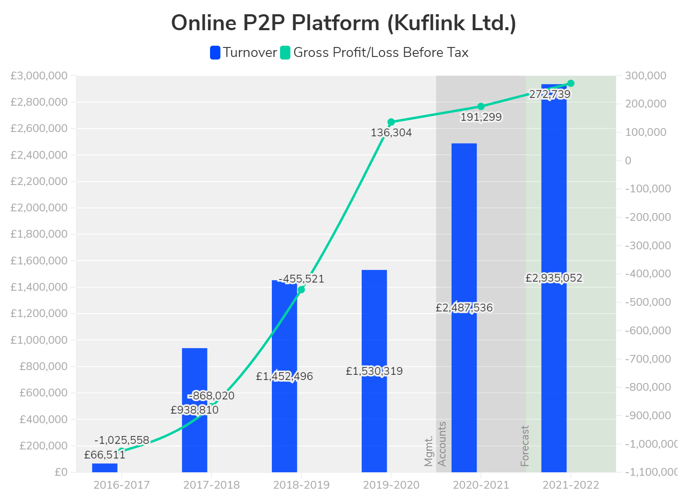 ---
Previous Commentary to 30th June 2019 Accounts.
I wanted to get an update out to you all to address the Audited Accounts that have been published at Companies House which was for the period ending 30 June 2019 (prior pandemic) filed by Ernst & Young in February 2021.

Change of Auditors in September 2020


The board made a decision as of 01
September 2020
to engage with new auditors who are
MHA Macintyre Hudson (Top 12 - click here for source)
. The FCA register was updated on 01 September 2020. EY Resignation was submitted to companies house in March 2021 after filing 2018/2019 Accounts in February 2021.

EY points in Audited Accounts of 2019


We have been working through all the points highlighted by Ernst & Young during the 2019 audit. There is
no suggestion of any wrongdoings by the firm
. I can confidently say that we have tackled the majority of them already throughout the pandemic and have worked through the remaining with Macintyre Hudson. I would also like to note that
none of the issues has or would have compromised any investor funds
1. VAT


As a peer-to-peer lender, Kuflink as a business is exempt from VAT. However, a VAT liability was created until we Registered for a Group VAT Registration. A Kuflink Group Registration was completed in March 2020. In respect of VAT, we have been in contact with HMRC since September 2020, as the pandemic created delays in an earlier contact. The outstanding VAT amount (which was c£139k) has been paid to HMRC on 30th June 2021.
2. Material Uncertainty


With regards to the Material Uncertainty in relation to the Going Concern, we have managed to cut significant costs within the business which has enabled the group to move to a self-sustainable model meaning profits are being generated on a monthly basis and we envisage this to be the case for the foreseeable future. In addition, we are in contact with our major shareholders if and when equity injection is needed.


We have increased governance by forming sub-committees to strengthen areas of the business such as Finance, Credit, Collections, Risk, Compliance and Client Money Assets (CASS):

a. Remuneration sub-committee (formed July 2019);
b. Nomination sub-committee (formed July 2019);
c. Audit sub-committee (formed July 2019);
d. Compliance and CASS sub-committee (formed July 2019);
e. Wind down Plan (WDP) sub-committee (formed May 2021);
f. Property Development sub-committee (formed July 2021)

Wind Down Plan sub-committee was formed to monitor Kuflink Well-being metrics within the business. ALCO (Asset & Liability committee) and EXCO (Executive committee) have been formed July 2019 and meets on a weekly basis.


FCA Assessments and FCA Client Money (CASS) Assessment
1. FCA has carried out a CASS assessment in January 2021 - this is complete.

2. FCA has carried out a Compliance assessment in April/May 2021 - this is complete. Due to this, we have introduced Kuflink Well-being metrics which monitors specific stats across the whole business. We have met minimum liquidity requirements (1 month fixed overhead costs and total expenses to cover a 2 year period wind-down process if triggered) by over 135% (figure correct 29th September 2021)

3. FCA has carried out a specific assessment for all P2P platforms in certain areas in May 2021 - this is complete.
Areas of review:
(i) Statistics page showing: default rates (Default definition: FCA 180 days v Kuflink 30 days); lender interest rate performance; and Covid-19 forbearance information;
(ii) Secondary market deals to show fair value and price;
(iii) Wind down plan reviewed and forecast of expenses for a voluntary wind down reviewed;
(iv) Ensuring borrower and lender fees are shown and clear; and
(v) Risk management framework review.

4. Kuflink responded to an FCA survey on High-risk investments (submitted 1st July 2021) - FCA will update the rules end of this year.
We have taken the view that residential developments should not be treated as high risk, as all our development loan deals require an RICS approved valuer to produce a 'Project monitoring Surveyor' (PMS) report before each tranche loan is drawn. We have started working on showing a '7 phases of Property Development' bar which will move as the development continues per tranche.


Wind Down Plan


1. Wind Down Process
Just to clarify our
Wind Down process:
If you hold money in a wallet that is in your personal name, this will continue to be held in a
segregated Client Money Account
so it can be returned to you even if the Wind-down process was activated. Our Segregated Client accounts are held with Natwest Bank PLC and Metro Bank Plc. We reconcile daily and keep about
80% of funds in Natwest Bank Plc, and 20% in Metro Bank Plc
. The security provided by our borrowers is not held directly by the platform but by a separate company called
Kuflink Security Trustees Ltd,
this is an asset holding company only and does not trade. Please note,
Kuflink's stake
will be the
last amount that is paid
during this process.
The 'Wind Down Plan' ('WDP') would be managed in-house by existing staff, systems, Kuflink Well-being Metrics and with the same regulatory permissions and requirements that the platform currently operates within. This would allow Kuflink to use its products and platform expertise to maintain the quality of the execution of the plan, minimising risks that would arise if we were to transfer operations to a third-party provider, and maximising outcomes for our clients.

2. Wind Down Plan Expenses and Liquidity.

This WDP is designed for Kuflink to continue for two years to wind down the book to zero. All expenses have been predicted and these funds have been put aside in a segregated bank account. We also keep a further 1 month fixed overhead costs. Both amounts get reviewed monthly and are forecasted to increase based on our formulas and Governing body approval. These figures and workings have and will always be shared with the regulator.
Kuflink constantly works with the FCA and monitors the WDP as the business evolves to ensure the amount put aside is sufficient to cover a sensible wind-down of the business.
Accounts

As a PLC, Kuflink Group Plc must have its and all its subsidiaries Accounts Audited by an Independent Auditor.

1. Online P2P Platform | Kuflink Ltd | Forecast, Draft, Audited and Management Accounts Summary

For Kuflink Ltd, which has been profitable since 2020, we have continued to make a PROFIT for the year ending 30th June 2021.

Please see the table below for Forecast, Draft, and Audited Accounts summary: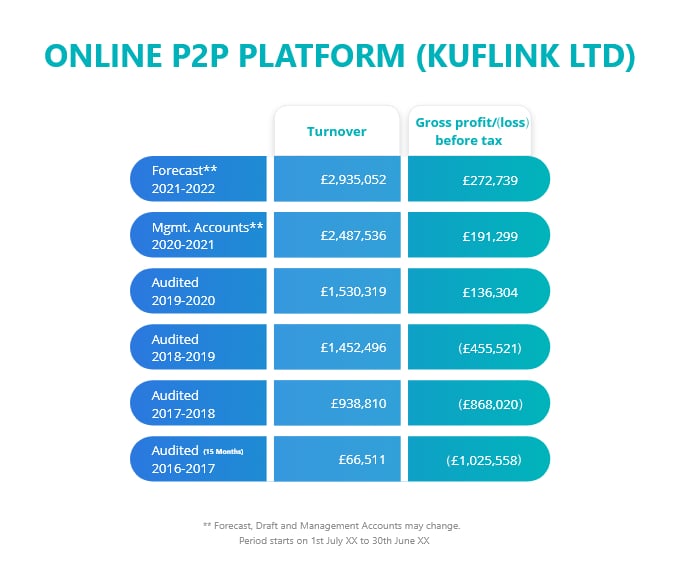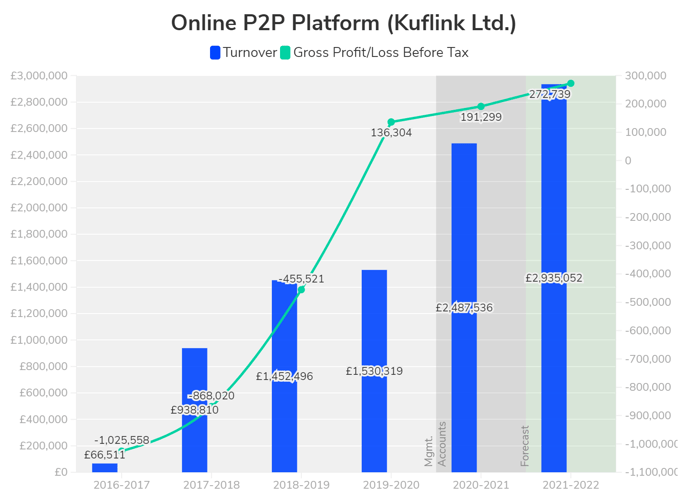 During the pandemic alone we have repaid over £40m of capital and interest to our investors and in total, over £84m has been repaid and we continue to repay capital and pay interest on an ongoing basis. No investors had lost money with Kuflink to date.


2. Kuflink Group Plc | Forecast, Draft, Audited and Management Accounts Summary

For Kuflink Group Plc, we have made a PROFIT for the year ending 30th June 2021.
We can also confirm that our Loan book has broken the £60 Million barrier on 30th June 2021. The Group's Capital & Reserves are £2.43m** on 30th June 2021 (£2.31m** on 30th June 2020)

Please see the table below for Forecast, Draft, and Audited Accounts summary: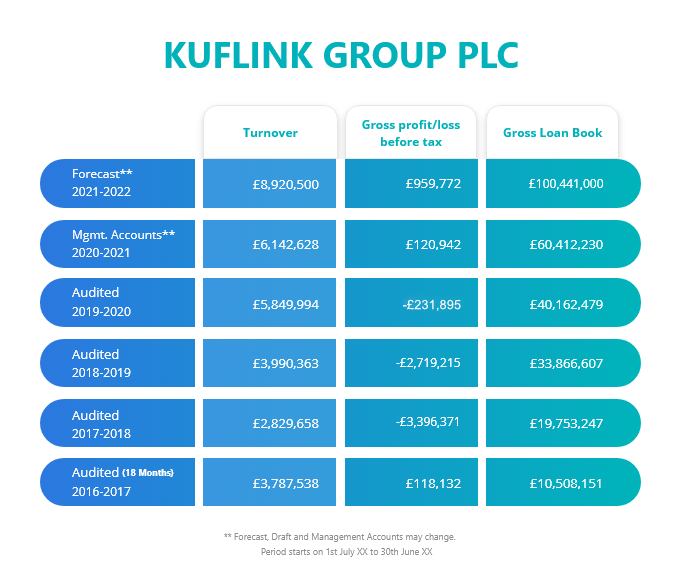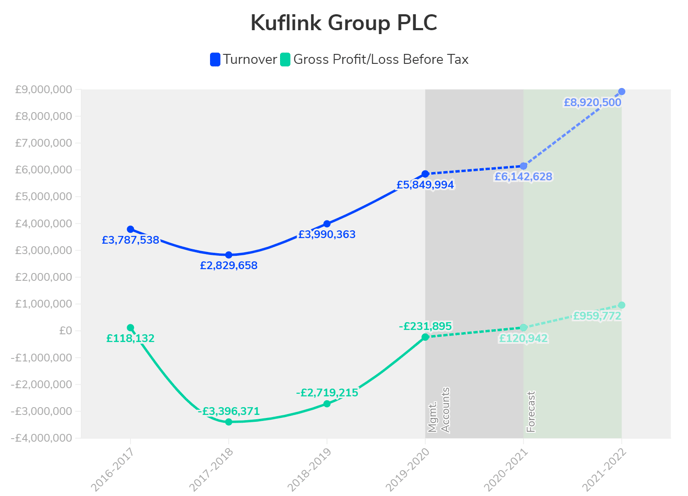 Kuflink's Purpose
We wholeheartedly intend to keep investing in our team and infrastructure with a confident view of furthering
Kuflink's purpose of '

Connecting People to Financial Freedom

'.


If you have any questions, the team and I are here for you so please do not hesitate to contact us on 01474 334 488, on live chat or email us at hello@kuflink.com.
Narinder Khattoare
CEO


Updated 30th September 2021
*Capital is at risk and Kuflink is not protected by the FSCS. Past returns should not be used as a guide to future performance. Securing investments against UK property does not guarantee that your investments will be repaid and returns may be delayed. Tax rules apply to IF ISAs and SIPPs and may be subject to change. Kuflink does not offer any financial or tax advice in relation to the investment opportunities that it promotes.


Kuflink Ltd is authorised and regulated by the Financial Conduct Authority (FCA) (Registration Number 724890). Kuflink Ltd has been approved by the Board of HM Revenue and Customs to act as an ISA manager in May 2017 to offer Innovative Finance ISAs – ISA manager No – Z1943. Kuflink Ltd has its registered office at 21 West Street, Gravesend, Kent, DA11 0BF.

© 2021 Kuflink Group Plc. All rights reserved. Kuflink ® is a registered European Community trademark (No. 1553541 & 1553358) and a registered United States trademark (No. 79295020 & 79295083) of Kuflink Group Plc.