You need to register on our platform and open your account in the usual way and once your wallet has been funded you should select the IFISA option and the term you wish to invest for.
Once you have Clicked on the IF-ISA button on the top menu, you will see the following page requesting your UK National Insurance Number. You will also have to confirm that you have agreed to the Terms and conditions and the Statement of Declaration.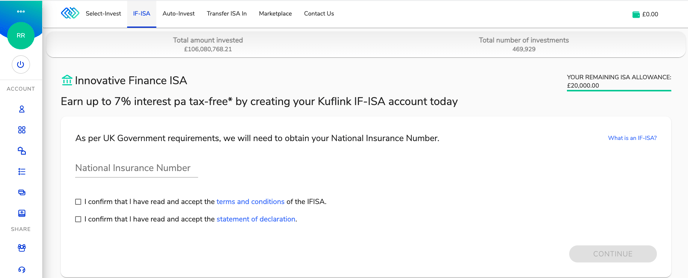 Then you will see the following IF-ISA page. You will need to top up at least £100 to invest in an IF-ISA.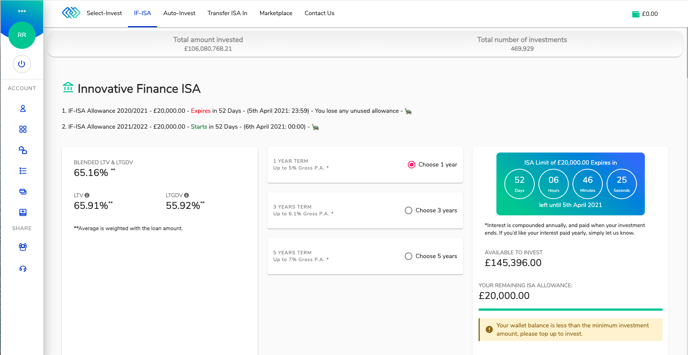 All subscriptions made, and to be made, must belong to you
You'll need to have your United Kingdom National Insurance number handy
You will need to confirm that you are 18 years of age or over
That you have not subscribed, and will not subscribe, more than the overall subscription limit in total to a cash ISA, a Stocks and Shares ISA, or an Innovative Finance ISA in the same tax year
That you have not subscribed, and will not subscribe, to another Innovative Finance ISA in the same tax year when you subscribe to the Kuflink Innovative Finance ISA, and
That you are a resident in the United Kingdom for tax purposes or, if not a resident, either perform duties which, by virtue of Section 28 of Income Tax (Earnings & Pensions) Act 2003 (Crown employees serving overseas), are treated as being performed in the United Kingdom, or are married to or in a civil partnership with, a person who performs such duties. You will inform Kuflink if you cease to be a UK resident or to perform such duties or be married to, or in a civil partnership with, a person who performs such duties

Open an IFISA Account