Take control of your money with Kuflink's Select-Invest product, where Kuflink co-invests up to 5% with you on Loans secured on UK property,* and enjoy fantastic returns up to 7.44% interest gross per annum.* Invest. Earn. Compound.
Allocate your funds across any secured loan* of your choice.
Earn up to 7.2% gross per annum* (simple interest paid monthly) or 7.44%* gross per annum (compounded paid on maturity).
Kuflink co-invests up to 5% alongside you in every deal*
Secured against UK Property (1st & 2nd legal charges)*
Secondary Market available
Tailor your portfolio to suit your needs
Loans start from just 3 months
Compound your interest to maximise returns
Loan book monitored daily by our in house collections team
Bridging Loans since 2011
Some loans are ISA Eligible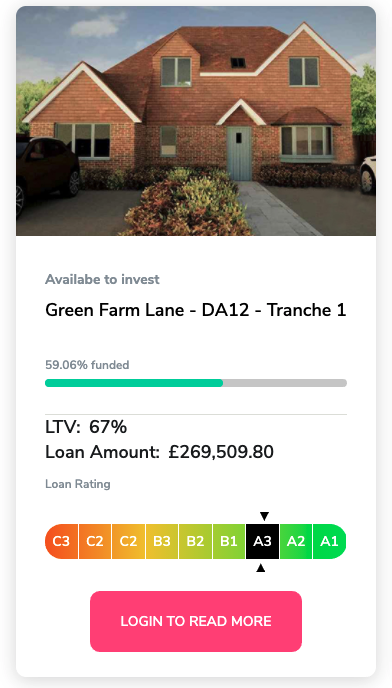 Here you can choose between having your interest being paid monthly (Simple Interest) or having your interest paid on maturity (Compound Interest)
Here you can see the Lending case information, which explains the deal, the LTV, etc.

Here you can the Finacial Information of the deal.

Here you can the Rating on the loan.

Here you can see the Security and Valuation report.

Here you can see the location of the Security.
Updated 29th August 2021
* Capital is at risk and Kuflink is not protected by the FSCS. Past returns should not be used as a guide to future performance. Securing investments against UK property does not guarantee that your investments will be repaid and returns may be delayed. Tax rules apply to IF ISAs and SIPPs and may be subject to change. Kuflink does not offer any financial or tax advice in relation to the investment opportunities that it promotes. Kuflink Ltd is authorised and regulated by the Financial Conduct Authority (FCA) (Registration Number 724890). Kuflink Ltd has its registered office at 21 West Street, Gravesend, Kent, DA11 0BF.